Montclair History Center's Farm Camp 2018: Yoga, Eco-Art, and Youth Project
Tuesday, 26 June 2018 | 10 - 11 am EST.
Montclair History Center located in Montclair, New Jersey houses a historical site, museum, artifacts, and a micro farm where Farm Camp is located.
This week's farm camp consisted of about 40 children ages five to nine. When the campers arrive in the morning they check-in with their camp advisor and begin their farm chores at the micro-farm including that of watering, weeding, and taking care of the chickens.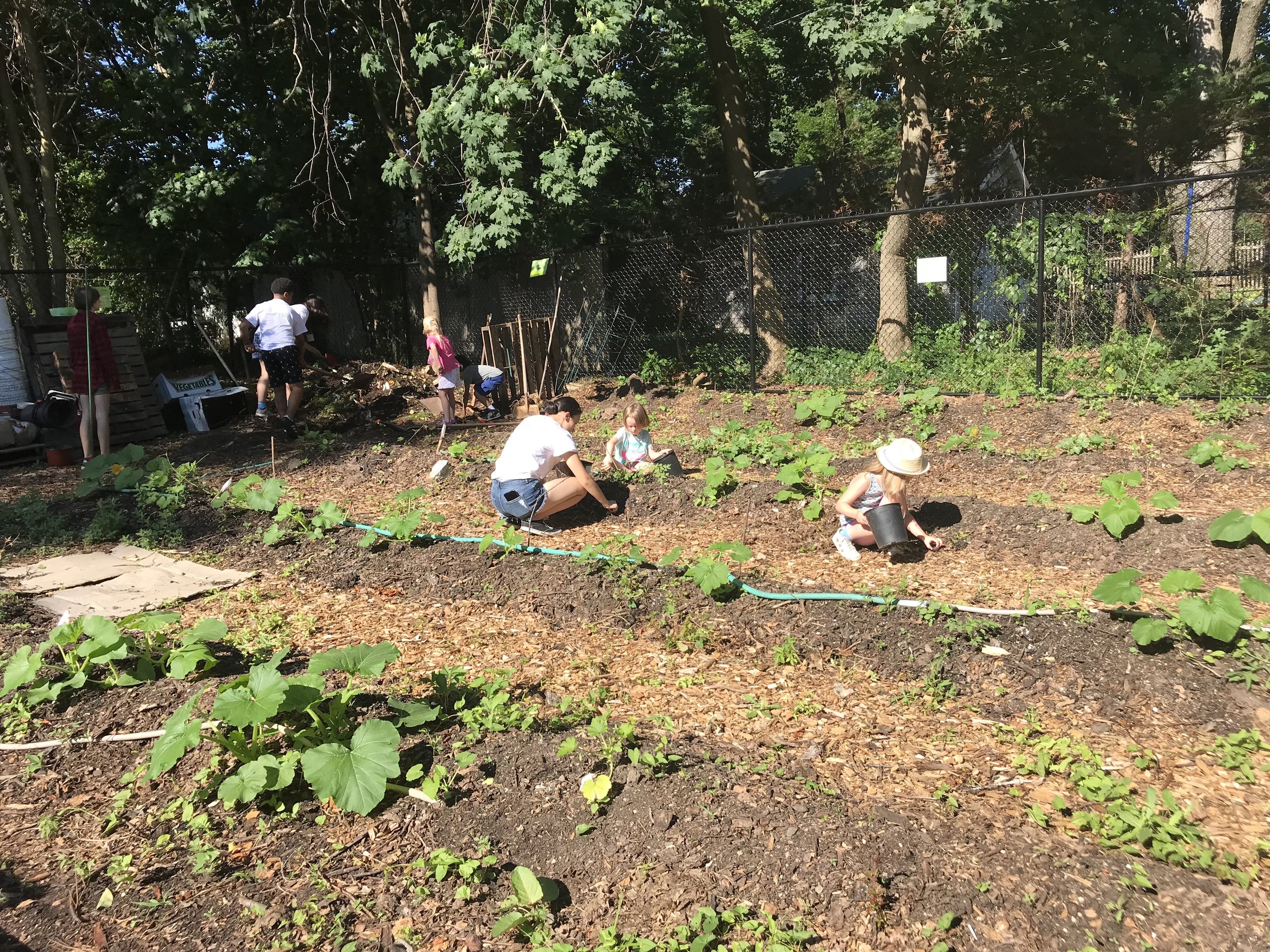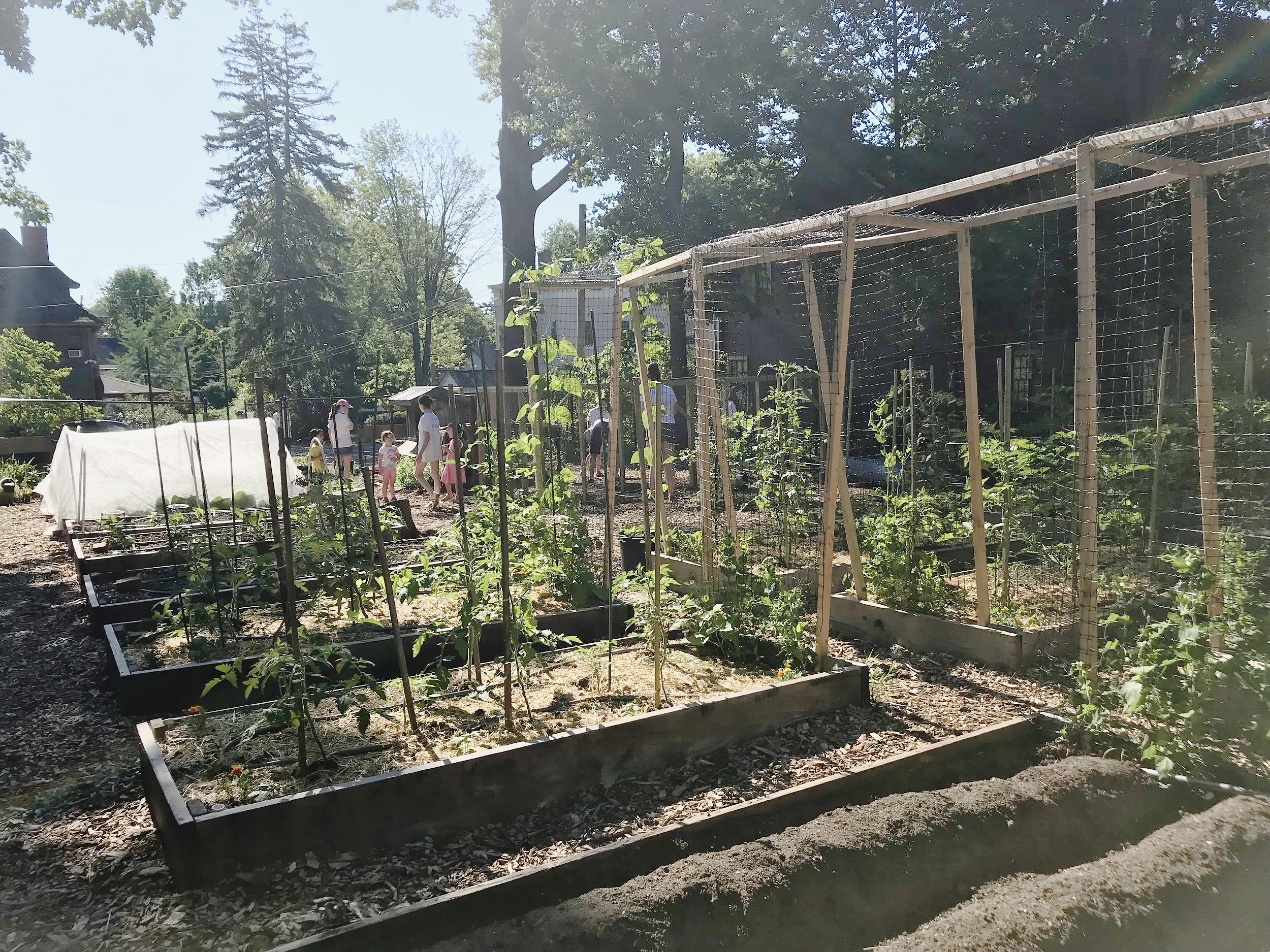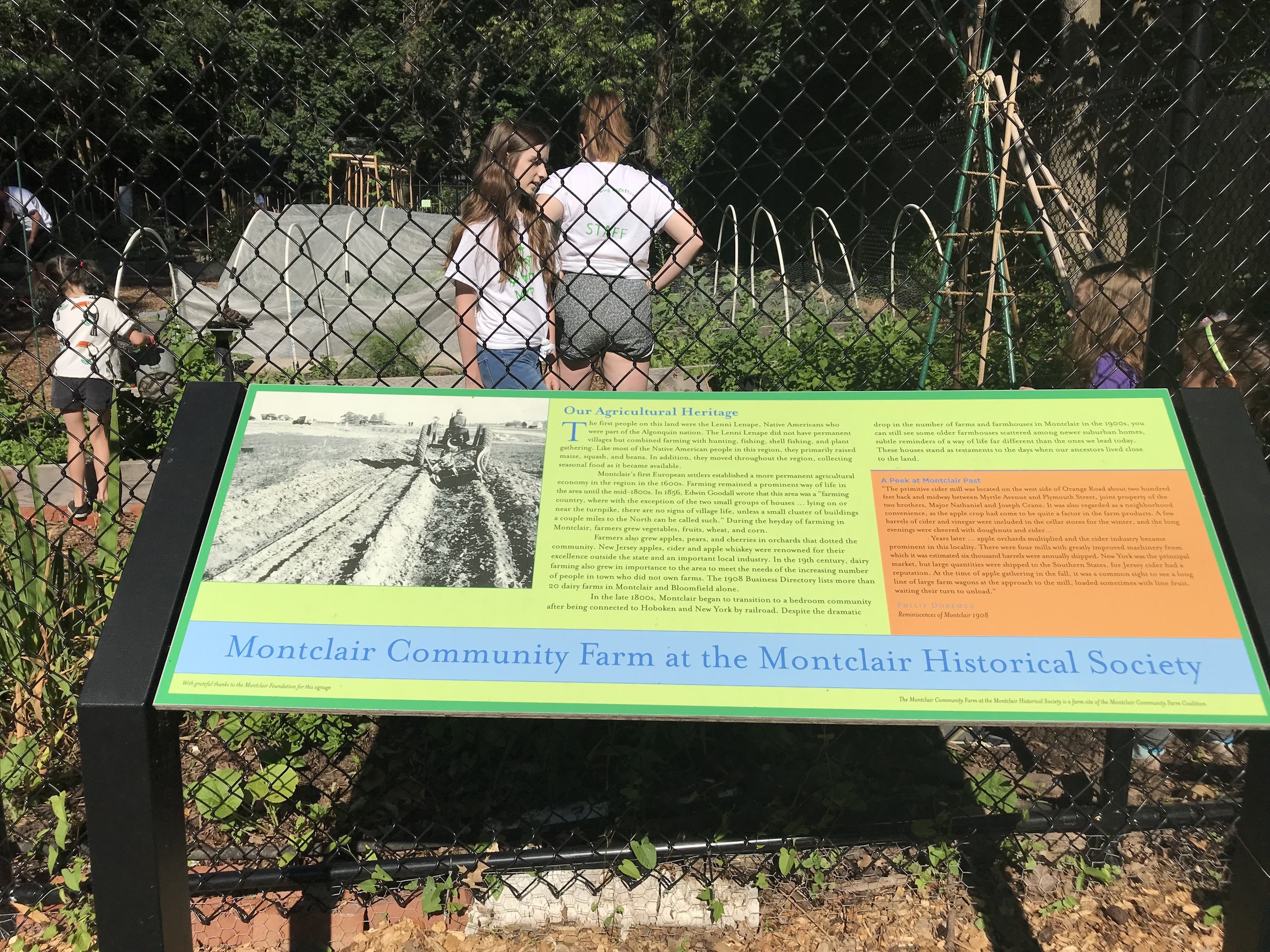 Today was Yoga and Eco-Art Day!
Shannon Reilly, Let's Imagine Volunteer Co-Director and Lead Educator, and Morgan Zelmer, Let's Imagine Volunteer Karma YogArt Teacher, spent time together teaching the children about these two programs.
First, Shannon and Morgan taught the children 30 minutes of Let's Imagine creative and fun "Farm Yoga," a themed yoga class specifically designed for youngsters, in a field on the grounds of Montclair History Center (see picture below).
Farm Yoga
A children's themed yoga class Shannon created for Farm Camp.
Farm Yoga begins with a "Farmer's Warm Up" (similar to traditional yoga Surya Namaskar to stretch and warm up body) except Shannon included stretching the six-directions of the spine.
Then, Shannon guided the children into a story of who is on the Farm through yoga postures mimicking farm animals and objects imagined on the farm. For example: upward and downward dog, cat and cow, cobra, the barn (triangle pose), rocking chair, plough, etc.
Finally, Shannon taught the children about the importance of having a final relaxation and resting period before getting back to work. She explained this is similar to how farmers needs rest at the end of their long days work, so does the Farmer's land and fields.
Shannon explained how every Farmer's fields get tired and stripped of nutrients, just like a farmer's body, if they do not take time rest and restore. "Resting," she explained, "is how we create more life and energy in our bodies and in our land."
The children and camp advisors loved this. Everyone was stretched, rejuvenated and ready for Eco-Art!
Eco-Art
A children and adult lesson plan Shannon created for Let's Imagine.
Eco-Art begins with a sit down conversation with children about what Eco-Art is. Shannon first asked if anyone knew what Eco-Art meant. She then explained that eco-art is a type of art-making that is consciously aware of the environment we live in by what we choose to use to make the art and how we choose to make the art.
Shannon explained to the children "we will be using organic materials" and opened the learning space for children to tell her what the word "organic" means. Ages five to nine opened up one by one excited to share what they knew about this subject. Some said "Natural" some said "healthy" others said "it goes back into the earth in a good way" and another said "it is living." All of them are true!
To get the children on the same page, Shannon explained "organic means it is from a living thing. It is alive." Shannon told the children we will be using organic material for our Eco-Art project because it is the best thing for the earth... and it is free to us all no matter where we are!
Shannon showed the children fallen sticks, leaves, flowers, and even rocks which she collected with Morgan. She explained these are organic materials that have come from living things and these are the types of art materials we will be using to create our Eco-Art project.
Shannon taught the children the importance of respecting the plants which they may want to use for their eco-art project. She told the children a wise-woman's understanding of plants:
"If you want something from a living plant that has not fallen off yet you MUST ask the plant 'Plant, may I have this piece of you?' Then, when you feel comfortable to take the piece you need, pick it off with love and tell the plant 'Thank you, Plant!' It is very important to do this as we must respect the plants since they are living things, too. You would not pick a hair off of your friend's head without asking if you can first, right? And of course, after you do that then we should say 'Thank you, friend!' This is the exact same reason why we must ask and express our gratitude for the plants when we take from them. This is a form of showing our respect and love for our plants."
The children understood this truth with nods all around. They all promised to respect the plants by asking before taking and expressing gratitude for the piece humbly given to them. This was very important to Shannon and Morgan.
After this was understood, Shannon made this fun by timing the children five minute to retrieve all of their materials they needed for their Eco-Art project. By the time the five minutes was over all the children put their organic materials in organized piles and were asked to step away so everyone can see what materials we have collected.
Shannon directed the children to take time to look at the organic art materials they have collected. She asked them "What can you create with this? This is where you get to have fun and use your imagination!"
Hands of eagerness to share ideas shot up to the sky! Every child had come up with something different they thought they could make and some children were inspired by other's ideas to make the same thing but with their own unique twist.
"We can make a Dinosaur!" "We can make a boat!" "We can make a garden!" "We can make a fairy house!" "We can make a fairy castle!" "We can make a bow-and-arrow!" "We can make mandalas!"
Shannon and Morgan knew they were among brilliant and eager learners! Shannon and Morgan said to each child who had an idea "You can create that for sure!" As teachers, their goal was to allow the freedom of the children's imagination and creation abilities to soar... especially if one creation the child tried was not working out as the child planned.
Children were instructed they can work together with others or alone, it was totally up to them. Also, if they needed more materials for their Eco-Art project, they must ask first before running and retrieving their materials.
Below are some pictures of the Eco-Art projects the children ages five to nine created on their own.
This Eco-Art lesson took a total of 30 minutes. However, Shannon and Morgan overheard children saying "we can finish this tomorrow!" when Shannon and Morgan will not be there. Shannon said this was such a great compliment from the children for she knew their teachings have resonated with the children beyond their volunteer time with them.
The children surprised Shannon and Morgan with bouquets of flowers collected from the micro-farm as a token of appreciation and gratitude for spending time with and teaching them Farm Yoga and Eco-Art.
Shannon and Morgan are humbled by their experience with Montclair History Center Children's Farm Camp. They both will be returning with the same lessons in August at the remaining Farm Camps with the older ages of seven to eleven.
Montclair History Center Donation to Let's Imagine
To express their gratitude for our organization's service, The Montclair History Center donated what they could, $50 USD, to Let's Imagine. We are very humbled and grateful to receive monetary donations of any size!
Thank You!
A special thank you to everyone, especially Angelica Diggs and Shannon Reilly, who made this happen at The Montclair History Center's Farm Camp!
We look forward to spending time and using our imaginations with you all again in the near future!
Does this post resonate with you? Are you Interested in having Let's Imagine volunteer at your Children's event? Contact: Info@letsimagine.org for inquiries!